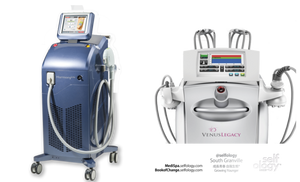 Four Advanced Medical Facial Treatments – Options of IPL Treatment for Full Face & Neck with Selfology Healing Facial OR Diamond Polar PEMF RF Skin Tightening Treatment
Sale price Price $385.00 Regular price $766.00 Unit price / per
 Alma Laser IPL (Intense Pulsed Light), featuring AFT (Advanced Fluorescence Technology), utilizes formerly unused short-wavelength light and converts it into part of the usable spectrum through a special filtering system and delivers pulsing light of multiple wavelengths, which increases emission and penetration for safe and effective results.
This treatment helps stimulate collagen production, improve skin texture, diminish the appearance of sun damages and visible blood vessels, reduce acne marks and scars, and other pigment irregularities.
Diamond Polar™ Applicator with (MP)2 Technology - Non-Invasive Wrinkle Reduction
Uses proprietary (MP)2 technology, a combination of Multi-Polar Radio Frequency (RF) and Pulsed Electro Magnetic Fields (PEMF),

 

to treat moderate to severe wrinkles and rhytides.
Multi-Polar RF uses a complex algorithm to deliver homogeneous energy and volumetric heating to

 

multiple tissue depths, allowing for

 

quick and safe buildup of heat, and easy maintenance of therapeutic temperature throughout the treatment.
Through synergistic (MP)2, RF

 

directly stimulates fibroblasts, while PEMF is known to induce fibroblast proliferation and

 

stimulate new collagen production

 

through release of the

 

growth factor FGF-24.
Unique electrode placement allows for treatment around the eyes, along the jowls, and other smaller areas.
Treatments with this applicator are

 

comfortable with no downtime, and RF technology is

 

proven safe for all skin types.